Assistant Drumline Instructor
Richard Nunez got an associates degree in music with a focus on Jazz at the Anne arundel community college, in 2014.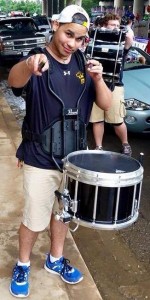 Richard started playing when he was 7 in 2000. He then has played in jazz bands, concert bands, orchestras, marching bands, churches and more. He has playing a lot of styles of music, achieving to be the drum captain for old mill high school, has recorded professionally in four albums of different kinds of music, plays 5 different instruments and has played in a lot of venues in Maryland, Pensilvania, Virginia, And DC. Right now he is the music director and playing at two
churches and he is currently in a jazz band playing traditional swing, fusion, Latin, gogo and hip bebop music.
He loves music, he has a wide verity of styles and he welcomes all styles of music. After being out of the marching band for 5 years he is exited to be a part of the UMBC drum line along side with his good friend Andrew Ballantine who have played together ever sense high school. He is exited to advice the drum line all his experiences and performances so that the UMBC drum line can be a melodic drum line full of dynamic, energy and skill.