Eddy Mosenkis (2010-2013)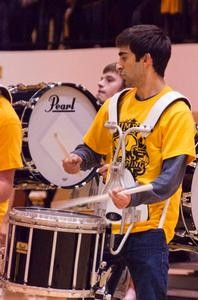 Eddy is from Potomac Maryland and graduated from Winston Churchill High School. Eddy started playing the drumset at the age of 14, but didn't begin playing on his high school drumline until he was 16. After graduating high school, his love for the drumline brought him to be the co-founder of the current generation of the Down and Dirty Dawg Drumline at UMBC. After a year, the drumline at UMBC became an integral part of the Pep Band and athletics experience, and Eddy hopes to expand the drumline as far as it can go.
Eddy is currently aiming for a BS in biology and hopes to go to medical school in the future.