Eva Hochberger (2011-2012)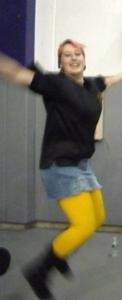 Eva is from Richboro, Pennsylvania. She began playing trombone when she was in fourth grade and has been playing ever since. Along with concert band, she participated in jazz band in middle school and marching band in high school. She graduated from Council Rock High School South in 2008 and came to UMBC to study graphic design and English as a double major.
Eva enjoys playing in pep band and the camaraderie found there. She loves the tournaments and does the face paint for the band at the games. When she isn't busy with classes or work, she can be found listening to music and being with her friends.