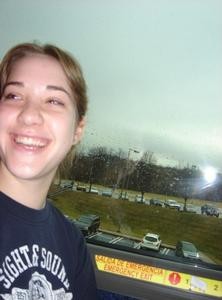 Megan Shook grew up in Mount Airy, Maryland. She first became interested in playing music in the 4th grade when everyone got to experiment with the different instruments in music class. She liked the flute and has been playing it ever since; picked up the piccolo in high school when she joined the marching band, marching all 4 years. In 2006, she graduated from Linganore High School.
Currently, Megan is a Bioinformatics and Computational Biology major. She is looking to pursue a Music Minor as well. Throughout her college search in the latter part of high school, she sought out a school with a strong music program and many opportunities. She played at Convocation my freshman year, and was encouraged to come to pep band as well; went to a practice and loved every minute of it!
Her favorite Pepband Charts are 25 or 6 to 4 and Pink Panther. She plays the piccolo!