Director of Athletic Bands
The UMBC Athletic Band program is under the direction of Costas Likakis; assisting him are a cadre of Student Leaders.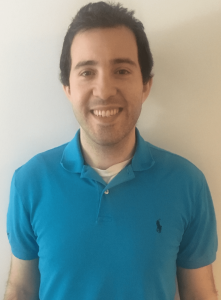 Costas is an UMBC alumnus who holds a Bachelor of Science in Computer Science and a Master of Science in Engineering Management with an emphasis on Computer Science. He is also a certified Project Management Professional.
C-Dizzy, C-Dawg, and El Capitan are all nicknames he has earned throughout a musical journey that began with a choice between violin and trumpet in the 4th grade. While there have been detours into bass guitar, drums, and vocals since then, he continues to prefer trumpet as the traditional leader of the band. He has performed with the UMBC Jazz Ensemble, Concert Band, and Wind Ensemble, rocked the house for over a dozen years in the UMBC Down and Dirty Dawg Band, and even found time to create and run 3 different original music groups, 1 of which made it to the quarterfinals at the Emergenza Music Festival.
While his day job involves technical consulting, he likes to keep up with his music chops and is always looking to get the band back together! KOS anyone?