Drew Ballantine (2015-2018)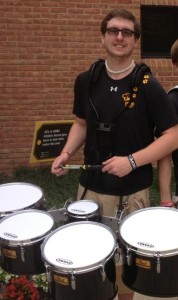 The UMBC Down and Dirty Dawg Drumline was under the direction of Drew Ballantine from 2015-2018. Assisting Drew was his good friend from high school, Richard Nunez.
Drew, a UMBC Alumni, holds a Bachelor of Science degree in Information Systems with a certificate in Network Administration. He began playing percussion in 2002.
Drew has a vast range of experience performing percussion instruments in a variety of different groups, including the UMBC Drumline, the Old Mill Senior High Concert, Marching, Jazz and Steel Drum bands, and various local music acts such as Sylent Asylum, By Grace and most recently, Young Poet. Drew was also the Drumline Instructor for the Old Mill Senior High School Marching Band from 2010-2012.
Drew was the Junior Captain of the UMBC Drumline from 2012-2013 and the Senior Captain from 2013-2014, where he focused on tightening up the technique and uniformity of the drumline, ran rehearsals, wrote drill, and led performances. Outside of music, Drew is a Systems Administration Engineer for the Hammers Company, who is a dedicated Philadelphia Eagles fan, and is a big fan of Linux systems, Star Wars, and video games.