Andrew Cleveland (2007-2009)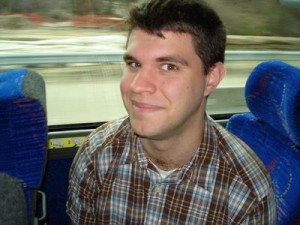 Andrew Cleveland was born in Silver Spring, MD on Dec. 3, 1986. Moving to Greensboro, NC when he was only 3, Andrew grew up with a knack for music. Starting with the piano and moving through such instruments as the guitar, bass, trombone, and even the timpani. He has settled down and concentrates mostly on playing his Conn Vintage One, lovingly named "Anastasia".
Andrew joined the pepband because of his love for music and sports. He enjoys most of the pepband tunes, however his specialty is songs with a screaming high melody. You'll know when you hear him, his playing turns heads. His favorite pepband song to date is "25 or 6 to 4" by Chicago. Andrew graduated from Northwest Guilford High School in Greensboro NC and plans to graduate from UMBC in the spring of 2009 with a bachelor of science in Information Systems.
"Playing in the pepband has been one of the greatest experiences of my college career."