Jen (Opitz) Hayes (2013-2014)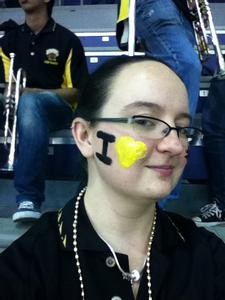 Jen is from Abingdon, MD and graduated from Edgewood High School in 2006. She initially attended Virginia Tech and played with the Marching Virginians. She transferred to UMBC in the fall of 2012. She has been playing flute since she was 8 and marching every season since 2002. She plays Flute, Piccolo, Bassoon, Mellophone and Baritone. In the summer of 2012 she marched with the Bushwackers Drum and Bugle Corps.
Jen is graduating in 2014 with a BA from the Health Administration and Policy Program with a focus on Public Health and a minor in Sociology. She plans to move to the Los Angeles area after graduation with her fiance and work in health education.