Joey Schenning (2010-2011)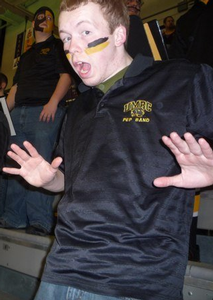 Joey grew up in Hereford, Maryland. He started learning the trumpet in 5th grade and hasn't stopped. A pep band was formed at Hereford High his senior year and he has been involved with spirit groups ever since. In addition to the pep band, Joey was a part of Hereford's Symphonic Winds and Jazz Band and winter musicals as a vocalist. After graduating in 2007, he became a music education major at UMBC, which has allowed him to learn to play several new instruments (including the mellophone, which he now plays full-time with the DDDB).
Joey participates in other UMBC Music ensembles. He is currently the trumpet section leader in the UMBC Wind Ensemble. He has also been a member of the UMBC Orchestra the UMBC Jazz Ensemble. Joey studies trumpet under Wayne Cameron. He is expecting to graduate in Spring 2011.